So, you've found your plot, planned your story and settled upon your characters and their details. Now it's time to write. Isn't it? Last week we looked at where it all begins (read more here). Following on from this, here are five key tips to help you successfully start and finish your manuscript.

1. Give Yourself Permission to Brain Dump
A common barrier to writing is when you're your own toughest critic, to the point where you can't let go and just write. Silence that inner critic by giving yourself permission to get your ideas down without fear of being wrong. Allow yourself to write without censorship. Even if you write rubbish to begin with, you'll get to the good stuff after a while.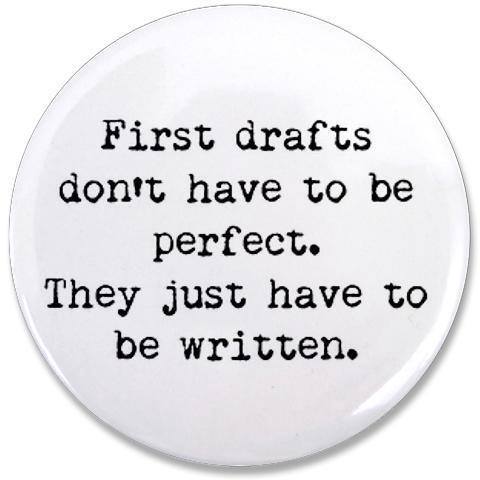 2. Trust Your Instincts
Your brain gathers all sorts of information and you'd be surprised what ideas are floating around in there. Granted, not every idea may be the best idea, but who cares? The point is, if you're willing to write them down and mull them over, you'll discover plenty of good material that works. The trick is to spot the good stuff and develop it, whilst being prepared to do away with the not-so-good stuff, without fussing over it.
3. A Writers Perk
Most writers also love to read. Give yourself permission to take a break and do this - writing doesn't always have to be nose to the grindstone stuff. At some point you may find yourself stuck with your writing and a good remedy for this can be to step back for a few days and read some of your favourite authors. Take note of their turns of phrase and other things about their style you admire – it can help refocus your own work (just take care to nurture your own, original style so you don't end up parroting someone else's).
4. Enjoy Yourself
Refrain from over-analysing your first draft because that's what re-drafts are for. To help find your own voice, try imagining you're telling the story to a friend, and you'll sound more natural. Don't fall into the trap of always 'telling' the story. 'Showing' what characters are thinking and feeling with their dialogue and actions is more interesting. Structure your sentences so they flow nicely, with language and phrasing suitable to your genre. Have fun!
5. Speaking of Friends…
When your manuscript is complete and you've taken care to iron out any errors and/or inconsistencies, find someone you trust to read it and give you their unvarnished view. Ask them to let you know what bugs them about the plot, story or the characters. As a writer, it can be tough spotting errors and/or inconsistencies when you're so close to your own work. When someone points out something wrong, you may discover that deep down you suspected it anyway. This is why trusting your instincts even when it's the difficult choice, is often the right thing to do.
Like anything, the more you keep at it the better you'll get. Audrey Niffenegger began writing The Time Traveler's Wife in 1997. She finished in 2001, but it took another two years of searching for an agent and publisher before the finished product was in her hands. From idea to publication: 7 years. So stick with it!

Thank you for reading and keep on putting your best foot forward.
Lara
P.S. Have you joined our email newsletter list yet? Every now and then we'll send updates about our books and other useful and interesting news.